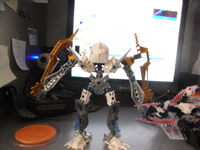 "Yeah, sure"
―Me, on a lot of questions
Hi I'm ToaFairon and this is my page. I am currently thinking on what to do next in my stories.
About me
I was born in 1996 and got my first set in 2002, it was a Nuvohk Va. Ever since then I began MOCing and since my dad has eBay I got much Bionicles from him. I also got spare parts with it and with these I made my first MOC it was a weird Rahi. In 2006 the new bodies came out and with these made more MOCs. In 2007 I made my own Toa Mahri named Rantu he was my former Self-MOC. My current Self-MOC is Fairon.
Friends
News
I made this section
I created many new MOCs
I recently got 2 Kg BIONICLE parts!
I made a Gigas Magna Storyline version of Miserix, it took me a day to build
Trivia
This user loves to make MOCs for fun
This user won the Sitrius Drawing contest
This user's favorite canon character is Miserix, while his second is Lesovikk and his third is Lewa
Other sites I am on